SKU Mapping
Each vendor module in Saberis allows you to define a "default SKU" for special order processing. This value is sent to your POS/ERP system for inventory tracking.
In some cases, you may wish to remap items to different special order SKUs than can be captured in the regular processing - ex. by product type or window/door series.
Saberis has developed a very effective tool to address this problem: SKU Mapping.
How SKU mapping works
We review the data in your vendor files to look for information that can be used to classify your items. Here are a few examples:
Product Series - your vendor may have a label that describes the underlying product series for windows or doors. For example, with Marvin Windows, you can order windows from a variety of product lines such as Essential, Elevate, Signature, Ultimate or Modern.
Product Category - your vendor may group items based on their "category" or "product type", ex. Exterior Door, Interior Door, Parts, Millwork, etc.
Saberis will update the configuration for each vendor module that requires SKU mapping, replacing the default SKU for the vendor module with a new value based on the text we find in the vendor file.
Sample SKU Mapping: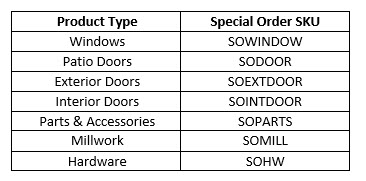 Please contact support@saberis.com for more information about the SKU mapping features available for your vendors
Step-by-Step Setup
Access SKU Mapping
Under Settings, select the desired Vendor Module. Then find and select SKU Mapping option and click on Edit.

Click on Create New

Source and Target Values
The Source Value is the phrase coming from the Vendor Quote/Order system.
The Target Value is what you want to send to your ERP/POS system.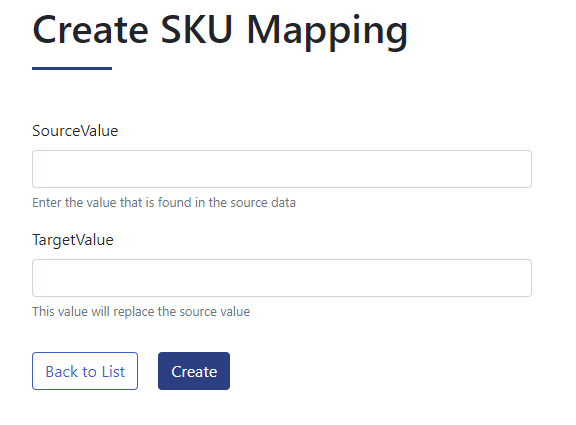 Enter the source phrase and the target phrase, then click on Create.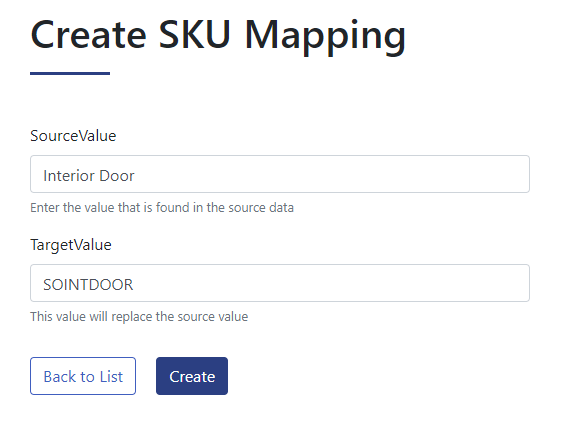 Your list has been started

If you need assistance determining what source values can be used for your vendor SKU mapping, please contact support@saberis.com.